Clinger Borges do Val made a fortune flying supplies to garimpeiros illicit gold miners in the Amazon but also lost three brothers to aviation accidents
To lose one brother in an air crash may be regarded as a misfortune; to lose two is a tragedy; but to have three siblings die in separate aviation accidents shows just how insanely dangerous the job of a bush pilot can be in Brazils Amazonian wild west.
Clinger Borges do Val is a survivor in what could well be the worlds most ill-fated flying family though only just, having himself crashed 11 times and lost two of his passengers to a cabin fire.
Im the luckiest pilot in the world. Anyone else would be dead, Val says with a grim smile over an evening beer with his wife, son and nephew in the town of Itaituba, which serves as a hub for illegal gold mining communities deep in the forest.
Supplying them by plane is a lucrative, risky business. Unregulated gold mining in Latin America reportedly earns more export dollars than drug smuggling, but comes with a heavy toll on the environment and human life.
In Brazils Amazon basin, illegal miners known as garimpeiros have been responsible for deforestation, attacks on indigenous villages and mercury contamination of rivers.
Now retired, Val like thousands of other bush pilots flew for over 40 years to remote, bumpy, half-hidden airstrips in small turbo-prob planes, ferrying garimpeiros and prostitutes, shipping out equipment and returning with gold.
Maintenance was poor, fuel often in short supply. Some runways were barely over 300 metres. Navigation initially without GPS was a challenge, particularly in the burning season, and the tropical rains were sometimes heavy enough to bring down planes.
The casualty rate was high. I have lost count of how many of my friends were killed in accidents. Without doubt this is the most dangerous place to fly, Val says.
Yet he and all six of his siblings became pilots. In Itaituba, it was either that or become a garimpeiro, he recalls. Given the high murder rate among miners and the low prospects of striking it rich, It wasnt much of a choice, he says.
His eldest brother Claudiso was the first of the family to die, when his plane crashed into the jungle about 40 years ago. A decade later, another brother, Willemis, was killed along with five of his passengers when his planes engine failed soon after takeoff from Itaituba and ploughed into a castanha tree.
The most recent fatality was last December, when a younger brother, Wilton, came down into the forest three hours away. Nobody knows what happened, Val says.
The crash barely made the news. Itaituba does not have a newspaper. Bigger media organisations rarely make it out to this Amazonian community. The government has at least in theory been trying to crack down on the garimpeiros for years. And besides, plane accidents are anything but a rare occurrence in this part of the world.
Itaituba is rarely mentioned in top 10 lists of the planets most perilous airports, but passengers and pilots flying to and from here in recent decades have been many times more likely to die than at better-known destinations.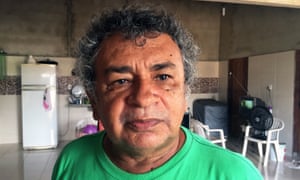 Read more: https://www.theguardian.com/world/2017/apr/04/brazil-bush-pilots-amazon-gold-miners-danger