As a Trump victory looked increasingly likely on Tuesday night, Canadas citizenship and immigration website was down and Google searches were up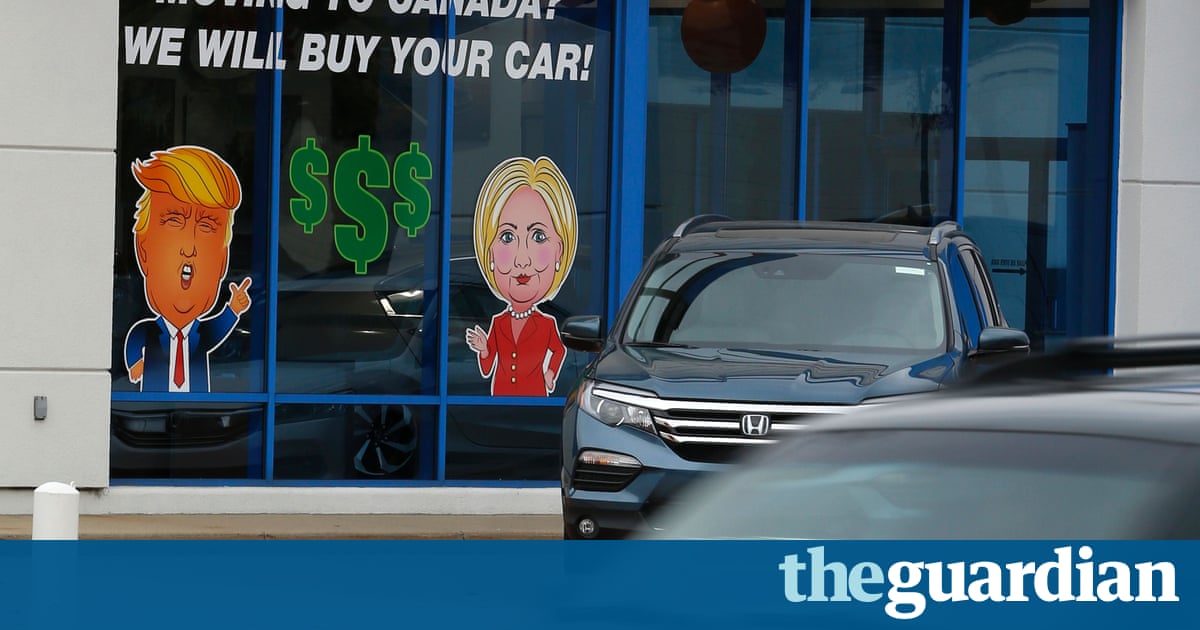 Online searches for move to Canada have spiked significantly as some Americans grapple with the reality of Donald Trumps election as president of the United States. But the trend also prompted a flurry of warnings of that immigration to Americas northern neighbour can be an arduous process.
As a Trump victory looked increasingly likely on Tuesday night, reports emerged that Canadas citizenship and immigration website was down, with users around the world receiving an internal message error when they tried to access the site.
Soon after Barack Obama phoned Trump to congratulate him on his win on Wednesday, the website appeared to be working sporadically. A spokesperson for Immigration, Refugees and Citizenship Canada said the site became temporarily inaccessible to users as a result of a significant increase in the volume of traffic.
The websites outage dovetailed with a rise in online searches on how to move north. Google Trends data showed a spike in searches for move to Canada and immigrate to Canada as the results rolled in. On Wednesday several American media outlets joined the fray, publishing articles that offered advice on how to move to Canada.
It was an echo of a sentiment expressed throughout the campaign by celebrities such as Girls Lena Dunham and comedian Keegan-Michael Key and embraced by an enterprising Texan who launched a matchmaking service linking Americans looking to flee a Trump presidency with Canadians. On Wednesday, Maple Match founder Joe Goldman said that traffic to the website was up 50-fold while the number of users on the app had more than doubled overnight.
Some in Canada had also sought to capitalise on the mood. Earlier this year, a radio announcer in Canada set up a website inviting Americans to move to Cape Breton, population 100,000, should Trump win. What started as a joke soon snowballed into an unofficial public relations campaign for the island in eastern Canada, with the website racking up more than two million hits and receiving thousands of emails from curious Americans.
But the sites creator Rob Calabrese warned those who are seriously contemplating heading north to prepare for an arduous process. Even if you have a job, even if you are married to a Canadian Its not easy, he told the Canadian Broadcasting Corporation on Wednesday.
While Canada has committed to accepting 300,000 immigrants in the coming year, about 120,000 of those spots are expected to be allocated for family reunification and refugees. The rest will likely go to skilled workers, where processing times for applicants can stretch upwards of six years.
Those wanting to move to Canada under the express entry program, where processing times average around six months, are at the mercy of a program that privileges those who hold a job offer in Canada, who are between 20 and 45 years old and have higher education.
Immigrating to Canada is a complex, paper-intensive, time-consuming process, immigration lawyer Lee Cohen told CTV news this week. This notion that somebody can just decide to move to Canada and live here is misdirected.
Still, some have managed to make it happen. David Drucker moved from Cambridge, Massachusetts to Vancouver after George W Bush was elected for the second time. Speaking to the CBC earlier this year, Drucker noted that the process of immigrating to Canada had become much more difficult since he made the move some 11 years ago.
A Trump presidency, said Drucker, most likely wouldnt send scores of Americans following in his footsteps. It is one thing to want to go. It is another to pick up and leave, he said. You have to put everything on a van and then you have to get the van across the border. Do you have kids in school? Have you got an elderly parent to take care of or a set of parents? Are you going to be able to adjust to a new culture? Theres so many things that have to line up.
For those who do manage to make the move, the interdependence between Canada and the US suggests Canada may be among the countries most affected by a Trump presidency. Analysts warned Wednesday that a Trump presidency could wreak havoc on Canadas economy as the US accounted for 60% of Canadas global trade in 2014. The trade relationship is underpinned by Nafta, described repeatedly by Trump as the worst trade deal in history. Trump has vowed to renegotiate the terms and would move to withdraw the US from the deal if Canada and Mexico refuse.
Trumps presidential run is far from the first time that the idea of moving to Canada has gone mainstream in 2004, hits to the countrys main immigration site increased more than fivefold, from an average of 20,000 a day to 115,000 the day after Bush won the election.
In 2012, the threat shifted colours, as news broke that Obama had been elected. After some Republicans declared they would move to Canada, they were swiftly countered by those who contrasted Obamas policies with Canadas universal healthcare or legalisation of same-sex marriage.
The apparent popularity of the idea has left some bristling at the notion of Canada as a second-rate alternative. On Tuesday evening many took to Twitter to echo a tweet first fired off by Toronto hockey writer Adam Proteau during the 2012 election campaign:
Read more: https://www.theguardian.com/world/2016/nov/09/move-to-canada-trump-election-immigration