Plans for a continuous route along the Chicago River include cycling on floating pontoons like the controversial Thames Deckway in London. But with the US citys cycle numbers growing, this long-held ambition could yet be realised
Cycling is no stranger to invention, from the steady swell of Kickstarter campaigns to the almost innumerable cycleways dreamed up to be dangled, dug and floated on various bodies of water around the world. The latest, a 6.5 mile, $84m (67m) floating pontoon, is currently being imagined for the Chicago River, between the citys Chinatown and Ravenswood Manor.
The RiverRide, to link Horner and Ping Tom Park in Chicago, was dreamed up by James Price Chuck, investor and co-founder of Second Shore. Its a six- to 12ft-wide, steel reinforced concrete pontoon, intended as a commuter and leisure route through the city.
Weve seen the likes of the RiverRide before, not least in the shape of the Thames Deckway, a 7.5 mile, 600m floating pontoon on Londons river which, this time last year, raised some sceptical eyebrows.
Then there was the idea to build bike paths in abandoned tube tunnels beneath London.
Many of these projects tend to miss the point that cycling journeys, like any other journey, require easy access to shops, places of work and schools; a straight route, with a ramp only every half a mile or more, creates unnecessary detours making it impractical for everyday trips. They are often expensive, overly engineered cycling infrastructure, when cheaper, proven solutions are seen again and again on the roads in places like the Netherlands and Denmark, and increasingly in London.
Is this one any different?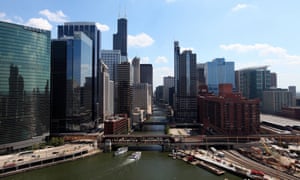 Read more: https://www.theguardian.com/cities/2016/nov/15/chicago-floating-river-bike-route-cycle-path-riverride